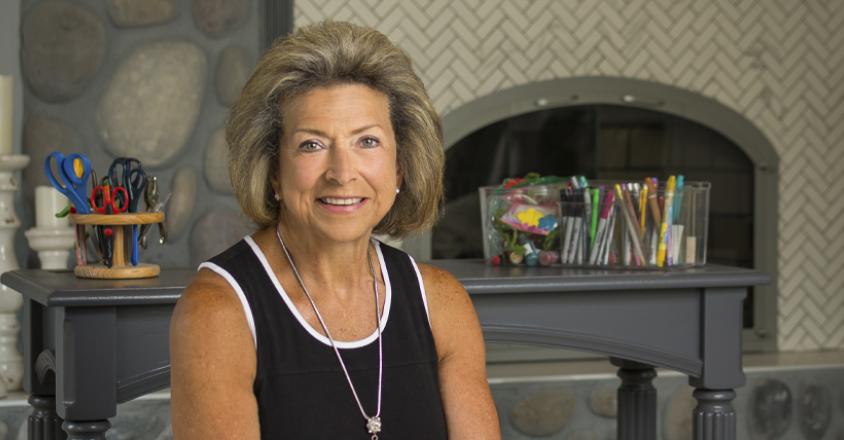 A Lung Cancer Diagnosis
Wednesday, July 22, 2020

|
Innovative Technology Available at the Genesis Cancer Care Center
Eva Sieber could feel it in her gut – this was no ordinary cold. Her congested cough lingered for months, she lost her appetite, and she felt short of breath.
"It was different than a regular chest cold, and it just wouldn't clear up," Eva said.
From June to early September 2019, Eva pushed through the symptoms while traveling with her husband Tom. Eventually, she received treatment for pneumonia, but when that didn't clear up the mysterious illness, her primary care physician referred her to Van Le, M.D., Genesis Pulmonary/Critical Care Medicine.
"Once we met with Dr. Le, things went really quickly," Eva remembered. "He looked at my images and began the evaluation. He then referred me to Dr. Wegner, (Scott Wegner, M.D., hematologist/oncologist at the Genesis Cancer Care Center). That's how I learned I had lung cancer."
Eva held her breath when she heard the diagnosis of Stage III non-small cell lung cancer. While 90% of lung cancers correlate with tobacco use, Eva had victoriously quit smoking nearly 35 years ago. The American Cancer Society reports that it's never too late to quit using tobacco. And the sooner you quit, the more you can reduce your chances of getting cancer and other diseases.
Shocking diagnosis
"I'm now a non-smoker," Eva said. "I'm healthy, I'm active and I've always been athletic. It never occurred to me that I could be a victim of cancer."
After absorbing the initial shock of her diagnosis, Eva was optimistic and began a personalized cancer treatment plan developed by expert oncologists at the Genesis Cancer Care Center.
The bulk of Eva's treatment occurred during six weeks of simultaneous chemotherapy and radiation. Following that, she embarked on a one-year immunotherapy treatment regimen.
Thankfully, Eva's body tolerated the chemo well, experiencing only minimal side effects. While chemotherapy occurred weekly, her radiation therapy was daily, and it generated uncomfortable side effects.
"Because of where the radiation was, it irritated my esophagus, and I couldn't eat or drink well. It took about two months before I could swallow normally," Eva said. "Yet, I was blessed. It could have been much worse."
Eugene Hong, M.D., radiation oncologist at the Genesis Care Cancer Center, knows that cutting-edge technology is essential for precise and accurate radiation. This is true especially with moving targets and the need to spare patients' vital organs and nerves from potentially permanent damage.
Precise care
"Eva had cancerous lymph nodes all the way above her collar bone, so her esophagus was affected from top to bottom. In that space there are many critical nerves to the arm. It's tricky to radiate those areas because you could potentially cause permanent nerve damage, impacting the arm's function. Plus, lung cancer is always near the spinal cord and heart, and it moves up and down with each breath. That's why our technology is so important – it provides accurate, precise care," Dr. Hong explained.
The Genesis Cancer Care Center uses top-of-the-line, innovative technology to optimize radiation treatment on moving targets like lung cancer. For example:
Image Fusion: By digitally fusing current diagnostic imaging (including CT scans, PET scans and MRIs), physicians see extremely detailed views of the tumors. "The more images infused, the more information we get, and the more accurately we can map out radiation treatment," Dr. Hong said.

4D CT scans: Take a 3D image and add one more

dimension – time – to obtain an even more realistic and exact image of tumors. "With this we see a 3D movie of how lungs move as they're breathing over a period of time. This allows us to track the tumor, so we can hit our moving target," Dr. Hong explained.

Daily cone beam CT scans: Radiation therapy patients receive a cone beam CT scan every day before treatment, ensuring up-to-date accurate positioning.
Continuous arc radiation: While a patient remains still, the radiation equipment moves in a continuous arc, delivering radiation with detailed precision from countless angles.
With its state-of-the-art technology, the Genesis Cancer Care Center offers patients the best of both worlds – close-to-home cancer diagnosis and treatment, and the best care available.
"Most cancer centers will have some of these technological advances, but very few community cancer centers will have all of them available. At the Genesis Cancer Care Center, we use all the bells and whistles that come with our innovative technology to deliver the most accurate and precise treatment possible. Plus, we have it right here, locally," Dr. Hong said.
Hometown care
Eva was grateful and relieved for the benefits that came from enduring cancer in her hometown.
"My blessing is that I don't have to travel to get quality cancer treatment. I'm comfortable and thankful that I can get in the car and drive 10 minutes to be here," Eva said. "Also, in a smaller community, there's an intimacy that you can't replace. The people here become family."
For Eva, the Genesis Cancer Care Center really does resemble a family tree, as she and her husband have deep roots within the community. In addition to Eva's generous community service and involvement, her husband, Tom, previously served as CEO of Bethesda Care System (prior to its joining with Good Samaritan Hospital to create Genesis HealthCare System). He also served as CEO of Genesis for several years.
"This is where our roots are. I remember being at the open house for the Genesis Cancer Care Center. It's been heartwarming to see the benefits and progress we've made. Now, there are very few reasons people need to travel outside of Zanesville to get quality care. We feel very blessed with the healthcare system we have," Eva said.
Eva Sieber enjoys scrapbooking again after being diagnosed with Stage III non-small cell lung cancer. She received state-of-the-art care at the Genesis Cancer Care Center, including innovative immunotherapy.