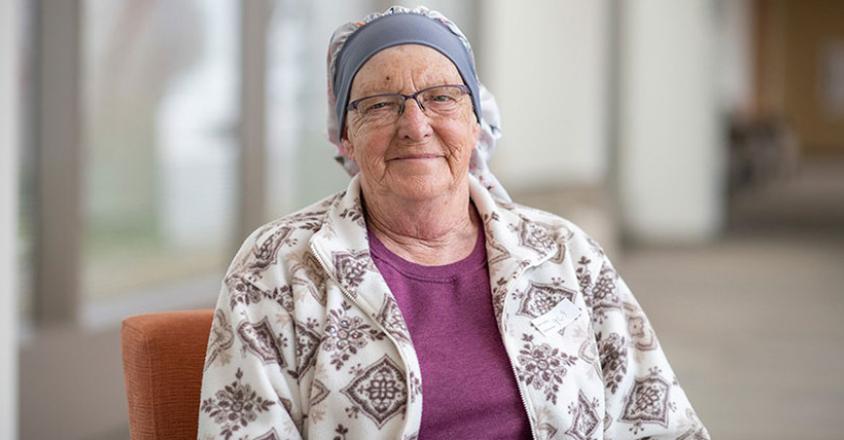 Innovative Lung Cancer Detection Technology Now at Genesis
With no symptoms in its early stages, most people don't find out they have lung cancer until the disease has progressed to a point that's difficult to treat. That's why Barbara Border sees the chain of events that led her to the Emergency Department (ED) as a blessing. She originally arrived at the ED complaining of extreme back pain, so doctors ordered an X-ray. Though the image didn't detect broken bones, it revealed a growth in her lower left lung.
"It looked like it was the size of a quarter, and it was right next to my heart," said Barbara, a 74-year-old resident of Cumberland, Ohio.
Barbara soon met Emily Brawner, D.O., Pulmonology and Critical Care specialist at Genesis HealthCare System, who explained that a biopsy would help determine the next steps in care. Since Barbara's lung tumor grew less than a centimeter away from her heart, there was an added challenge and risk. Even so, brand-new, innovative technology was available to help.
"The tumor's location was concerning, but thankfully, we were about to launch the Auris Monarch, our new robotic-assisted bronchoscopy, and Barbara was willing to be one of our first cases," explained Dr. Brawner.
What is a robotic-assisted bronchoscopy?
Doctors often access the lungs by performing a bronchoscopy, a procedure using a thin tube passed down the nose or mouth into the throat. With the use of robotic-assisted bronchoscopies, physicians can biopsy nodules that grow further out in the lung and aren't visible with a regular bronchoscopy. The technology, similar to a GPS, help guide physicians to hard-to-reach nodules.
With the Auris Monarch Robotic-assisted Bronchoscopy (RAB), a camera at the tip of the bronchoscope allows physicians to access a nodule or mass with greater precision.
"We have been doing electromagnetic navigational bronchoscopy at Genesis for more than 10 years," said Dr. Brawner. "With the Auris Monarch, we now access the nodule with more confidence and precision. We can better visualize where we need to go and obstacles along the way."
Using the Auris Monarch RAB, Dr. Brawner navigated to Barbara's lesion quickly, accurately and without discomfort or invasive methods.
"Just from the shine in her eyes, I knew the minute Dr. Brawner came back in from the biopsy that things went well," Barbara said. "It was so smooth. I only had a little sore throat. It was wonderful."
Dr. Brawner agrees.
"This technology is a gift. These advanced bronchoscopies at Genesis aren't usually offered in community hospitals of this size. The technology isn't currently available at our surrounding larger hospitals, and we're only the second in Ohio to offer it. I am proud to be part of an organization that invests in innovative technology," Dr. Brawner said.
Learn more about the Monarch procedure
Call (740) 586-6888 to learn more and find out if the Monarch procedure is appropriate for you.
Barbara's state-of-the-art biopsy revealed small cell lung cancer. For treatment, Barbara had four rounds of chemotherapy over four months and 30 sessions of radiation at the Genesis Cancer Care Center. She completed her treatment and is feeling strong and thankful.
"The doctors and nurses at Genesis know what they're doing," Barbara gushed. "Everybody was so kind. You can't even imagine how good it is to walk into a place like that when you know you're sick. They took great care of me."
Supporting Health Care in Our Communities
The Genesis HealthCare Foundation is here to promote charitable support for Genesis HealthCare System.