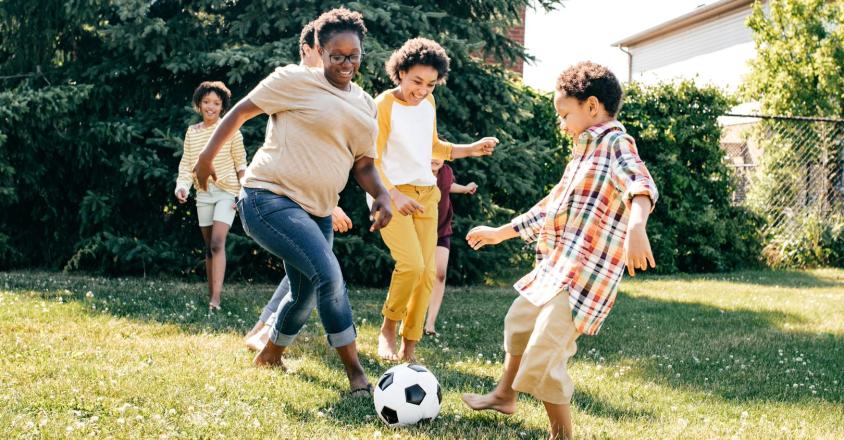 Lots of Fun in the Summertime
Celebrate safely  
Summer is a great time to get outdoors and enjoy the warm weather with your family and friends. Being aware of the health risks can help you have fun in the sun safely. Summer health risks include sunburn, heat cramps and heat stroke.  
The best defense against sunburn is prevention. Use sunscreen and wear hats and sunglasses to protect yourself from the sun's harmful rays. "Sunburn is often mild. However, sunburn that results in blistering may require medical attention, especially if it's extensive or covers the entire back or abdomen," said Stephen Ulrich, M.D., board-certified family practice, Perry County Family Practice, New Lexington, Ohio. Remember that excessive sun exposure also increases the risk of skin cancer and skin damage.  
Heat Exhaustion 
We can take precautions to avoid exposure to the sun but it's important to know the signs and symptoms of overexposure. Heat cramps, or heat exhaustion, is caused by excessive sweating. In heat exhaustion, the body is depleted of salt and fluid and leads to low blood pressure, muscle cramps and nausea. To prevent heat exhaustion, stay hydrated and avoid prolonged exposure to high temperatures. Heat exhaustion can usually be treated quickly and effectively with shade, fluids and rest.  
Heat Stroke 
Heat stroke is a more serious form of heat injury. The exact cause is unknown, but the victim stops sweating, his or her temperature quickly rises to 105 degrees Fahrenheit or higher, and he or she becomes confused and disoriented. Heat stroke is a medical emergency and if not aggressively treated, it can result in seizures and death. If you suspect heat stroke, call 911, and get the victim out of the heat and cooled by any means possible. If the person is conscious and not vomiting, give him or her fluids to drink.  
"Remember to put on sunscreen, stay hydrated, and keep an eye on yourself and others when you spend more than an hour in the summer sun," Dr. Ulrich said. And most of all – have lots of fun in the summertime.  
Genesis HealthCare System's Health and Wellness content conveniently provides accurate and helpful information. Your health history and current health may impact suggestions provided through our Health and Wellness content. Although we hope this information is helpful, it is not a substitute for your doctor's medical advice. Before making any significant changes, please consult your doctor.