Volunteer at Genesis
Make a difference in our community by volunteering at Genesis HealthCare System. You'll play a central role in providing comprehensive, compassionate care for patients and families in our community.
Why volunteer?
Genesis Volunteers are an integral part of providing compassionate care.
Volunteering at Genesis
Volunteer at Genesis
Help Genesis provide top-quality health care to our community by volunteering at the hospital or for our hospice services.
Volunteer opportunities for everyone
In the Critical Care Unit; at the Information Desk in the main lobby.
Delivering a free library, the daily newspaper and activity sheets for visitors and patients; sharing free cookies and fruit; or transporting supplies or belongings from various areas of the hospital.
Provide Communion (Eucharist) for Catholic patients and family members as requested; in Spiritual Care, obtain church information and provide literature to newly admitted patients; or as a Compassionate Companion at the bedside of a dying patient so no one dies alone (NODA).
As a Behavioral Health Volunteer, previous participation in Alcoholics Anonymous and Narcotics Anonymous for at least one year is required to lead a supervised meeting; or as an Outpatient Peer Support volunteer, providing groups with a personal experience of recovery from drug or alcohol addiction, mental health trauma or outpatient rehabilitation programs, while supervised by Drug and Alcohol Recovery Program staff. One year of sobriety is required to offer peer support.
The program is called the Warm Hand Off, and it pairs patients with volunteers who understand addiction. While in the ED, volunteers will listen, provide treatment information and answer questions regarding recovery. Find out how you can help.
As a volunteer at Genesis Outpatient Rehab Centers, you help staff clean equipment, help get supplies for staff or misc. office work. 
Help patients, families and visitors get to their destination at the Genesis Physician Pavilion as a greeter; as an Emergency Department volunteer; at the Front Desk; or Imaging Services.
Prescription: pet therapy 

Pet therapy is one of the best all-natural sources of healing available. Studies show that a visit from a trained pet therapy dog reduces stress and increases well-being in patients receiving medical care in hospitals, hospices and nursing homes. Family and friends visiting patients experience similar positive benefits.  
Dogs in demand  
We're always looking to add to our roster of caring canines. Interested?  
All visiting canines must be licensed therapy dogs. If your dog is already licensed, fill out our general volunteer application, genesishcs.org/sign-become-genesis-volunteer.  
If not, we'll connect you to a local licensing organization.  
Complete requirements and training, then choose the Genesis location and schedule that works for you.  
Contact Volunteer Services at 740-454-4700 for more information.  
We're looking for individuals to help escort patients and/or help stock the emergency room at our newest facility, the Genesis Coshocton Medical Center. Please complete the volunteer application on this page if you'd like to get an inside view of the latest in medical care.
We accept youth volunteers year-round. They must be 16 years of age and able to commit to a minimum of two (2) three-to-four hour shifts a month. We also offer a Summer VolunTeen Program that runs from the end of May to mid-August. The VolunTeen program is great for students interested in a career in the medical field, in need of service hours or hoping to gain confidence in a professional environment. VolunTeens rotate through a variety of departments. Interested students can complete the application on this page.
In the Genesis Gift Shop; through Pet Therapy with a licensed pet; or as a Clown Volunteer as a way to reduce stress for patients and their family.
All volunteers will be required to pass a background check and provide proof of vaccination for COVID-19 and influenza (during flu season). Ages 18 and up, please inquire about our Adult Volunteer program. Youth Volunteers are welcome year-round and must be at least 16 years of age.
We also offer a summer educational opportunity for teens. The VolunTeen Program runs from the end of May to mid-August. Call the volunteer office at 740-454-4700 for more information or to apply.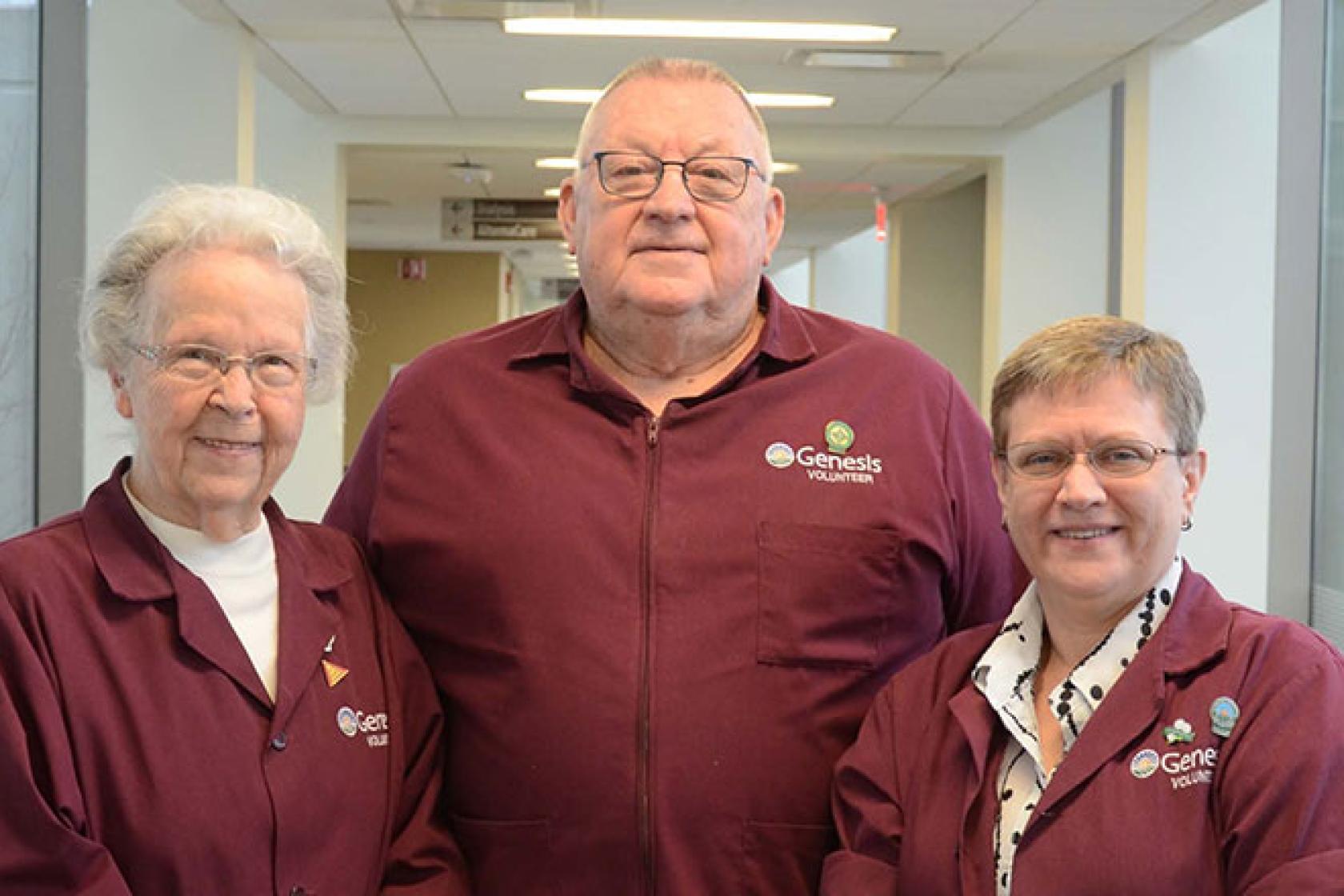 Supporting Health Care in Our Communities
The Genesis HealthCare Foundation is here to promote charitable support for Genesis HealthCare System.