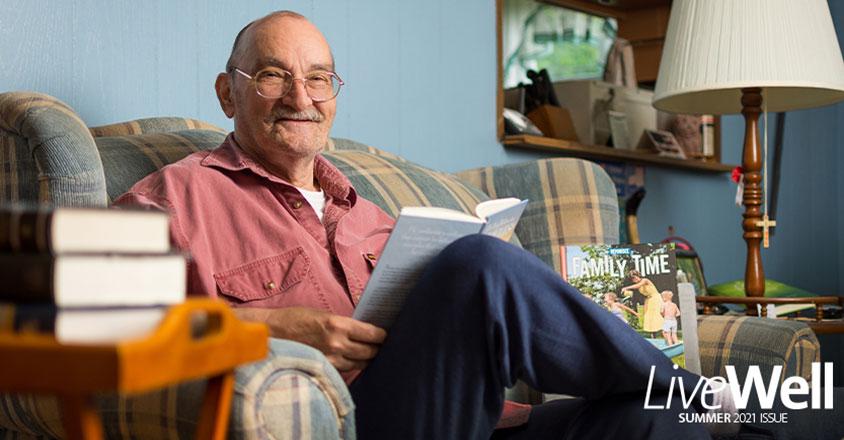 LiveWell Patient Story: MitraClip nips heart valve leakage
Tuesday, August 17, 2021

|
Duane McFarland has experienced strokes, heart attacks, double pneumonia, sepsis and open-heart quadruple bypass surgery. No wonder he values quality healthcare.
"It feels like I'm 67 going on 87 years old. My mom died of congestive heart failure, and I started the treacherous path of heart disease 30 years ago. I wouldn't be here without the expert care of the Genesis doctors and nurses, my wife, Linda and God above," Duane said.
Something's not right

Duane had a strange feeling whenever he stepped outside. "When fresh, cool air hit my lungs, it hurt. Not a sharp pain, just a steady pressure," Duane explained. "It felt like someone was putting his hand on my chest and constantly pushing."
The skilled Genesis medical teams combined information from Duane's medical history with observations about his chest pain, ran tests and then found the problem. Linda is thankful the doctors diagnosed her husband's symptoms. "He'd had shortness of breath for a few years even though he'd quit smoking. He couldn't walk 50 feet without getting short of breath," Linda said. "We're pleased that a test showed the problem," she said.
"An echocardiogram revealed a severe mitral valve leak in Duane's heart," explained Alaa Gabi, M.D., fellowship-trained and board-certified interventional cardiologist at the Genesis Heart & Vascular Institute. "When his heart muscle squeezed, blood was going past the valve barrier, regurgitating back into his lungs."
Human hearts have four valves to keep blood flowing in the correct direction. Each of those valves has flaps that open and close with every heartbeat. One of Duane's valves, called the mitral valve, had flaps that weren't closing correctly.
"There are two types of mitral valve leaks – one stems from a problem with the valve itself, and the other is associated with underlying heart disease or rhythm issues. Duane had both. The good news is, both leaky valve types can be repaired with the new, advanced MitraClip treatment," Dr. Gabi said.
An innovative, minimally invasive repair
"The doctors told me blood was pouring into my lungs and they could use a little clip to make the valve work right," Duane said.
To restore proper blood flow, specialized heart and vascular teams at Genesis collaborated to perform a minimally invasive procedure using the MitraClip technology. First, the interventional team guided a thin tube, called a catheter, from a vein in Duane's leg to his heart. Then, the interventional team fastened the faulty valve flaps together with the small MitraClip device. The innovative technology secured the flap closure more completely.
"Prior to the MitraClip, patients like Duane were left untreated because they had too many risk factors for open-heart surgery," Dr. Gabi said. "This procedure is designed to improve quality of life and increase the length of life."
Duane testifies he's experienced both of those benefits. "I couldn't keep on going the way I was. I could barely breathe. Now, I feel a lot better, and I'm able to breathe again," Duane said.
Heart healers
To provide the advanced, minimally invasive, leaky valve repairs, multidisciplinary teams of healthcare experts at Genesis work collaboratively.
"It takes a lot of planning to make this possible," said Mohamed Ahmed, M.D., fellowship-trained and board-certified interventional cardiologist at the Genesis Heart & Vascular Institute. "General cardiology teams, heart failure teams, catheterization lab teams, operating room teams, nurses, surgeons and anesthesiologists – all come together for the patient."
In addition to extensive planning, the heart surgeons must have specialized training to provide the new minimally invasive technique. "This is an advanced procedure and requires advanced training. It's not a common procedure, nor is it done at every hospital. Genesis is the only hospital to offer this procedure within an hour's drive of Zanesville," Dr. Gabi said.
For Duane, having advanced heart care close to home makes all the difference.
"I've been a patient at other hospitals in the past, and that meant long drives for Linda every day after work. It's much nicer to be here and get the high-quality care I need. I've been a patient at Genesis for the past 10 years, and they've been wonderful," Duane said. "I'm thankful to Genesis for giving me life."