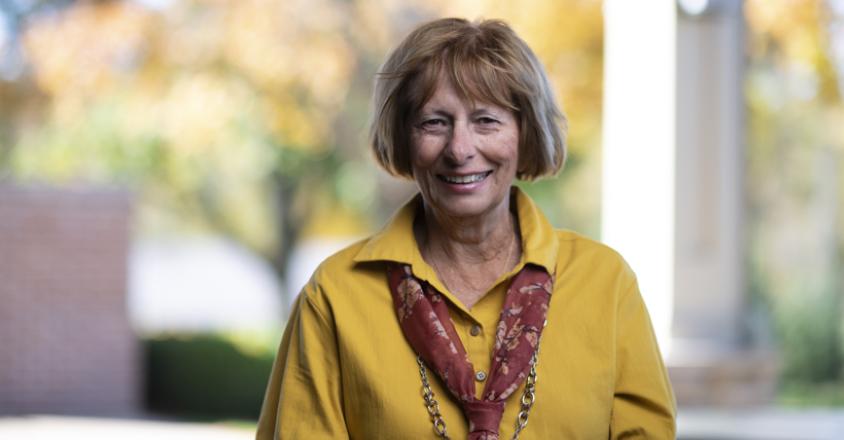 Woman's Tickle in Throat Was Her 'Sign of a Heart Attack'
Tuesday, February 16, 2021

|
Unusual symptom brings woman to the emergency department
Tami Swope woke with an odd tightness in her neck. The feeling wasn't like anything she'd ever felt before. Describing it as "pressure," she decided to wait for the sensation to dwindle … but it didn't.
"For some reason I thought I should go to the Emergency Department (ED) and have them check out my throat," Tami said. "My husband wasn't home, so I called my neighbor and asked her to take me. We talked and chatted on the drive to the ED just like we were going to lunch."
Since Tami, a native Zanesville resident, lives only one mile from Genesis Hospital, her ride was a short one – and that's a good thing. The proximity to top-quality care saved her life.
Collapsing in the emergency department
"When we arrived, I handed my driver's license and health insurance card to the person at the registration desk – and that's the last thing I remember. I have no other memories of the next eight days," Tami said.
Tami lost consciousness, and her heart stopped beating in the ED. "I got a call from an ED physician alerting me of a female patient in cardiac arrest, and the ED team was doing chest compressions trying to restart her heart," recalled Mohamed Ahmed, M.D., interventional cardiologist, Genesis Heart & Vascular Group. "I rushed downstairs to the ED, and it was clear Tami was having a heart attack. We worked quickly to get her to the Cardiac Catheterization Lab, locate the blockage and fix it."
100% blockage can cause a widowmaker attack
After the ED team stabilized Tami and restored her heart to a normal rhythm – a major feat that required shocks through a procedure called cardioversion, chest compressions for approximately 10 minutes, and a ventilator to breathe for her weak body – Tami was transported to the Cardiac Cath Lab. There, the heart specialists identified the underlying problem: Tami's left anterior descending artery (LAD) was 100% blocked. The LAD, commonly referred to as the widowmaker, is recognized as the most important artery in the heart.
"She was at death's door," Dr. Ahmed said. "She was having the worst kind of heart attack." Thankfully, with top-quality care close to home, the widowmaker is making fewer widows.
"We have, on average, between 120 and 140 patients who present with acute heart attacks like Tami's each year, and it makes a tremendous difference to have the care close to home. For example, if we didn't have this level of cardiac care available in Zanesville, Tami would have transferred to Columbus, and it's very likely she would not have made it," explained Abdulhay Albirini, M.D., interventional cardiologist, Genesis Heart & Vascular Group, who also cared for Tami in the Cardiac Cath Lab and throughout her hospital stay.
Cardiologists place stents and insert balloon pump
The Genesis' Cardiac Cath Lab team maneuvered a hair-thin wire through Tami's clogged artery and inflated a balloon to bust the blockage. Then they carefully placed two stents, or small tube-shaped supports, within the artery to maintain blood flow. Due to the severity and acuteness of Tami's heart attack, the physicians also inserted an intra-aortic balloon pump device to improve blood flow and aid the pumping function.
With the procedure successfully completed, Tami's body needed to rest, regain strength and resume breathing and pumping blood on its own. She spent several days in the Genesis Critical Care Unit (CCU), surrounded by family, friends and nurses.
"Genesis had a nurse in my room 24/7 until the heart pump was removed. My family said the team was so conscientious and compassionate. People repeatedly said this was a miracle. I think I had divine intervention, but the physicians were the miracle – they brought me back," Tami said.
Interventional cardiologists collaborate to provide around-the-clock services at Genesis Hospital. "We take a team approach, and it's very helpful," Dr. Ahmed said. "We bring all our education from the prestigious institutions we attended and make it accessible in Zanesville. The people and community deserve the best care."
Join cardiac rehab after a heart attack, heart surgery
Tami is grateful for the best care. After being discharged from the hospital, she continued her recovery by attending Genesis' cardiac rehabilitation program. The education, exercise and encouragement during 36 sessions, three days a week, proved essential to her healing.
"It's proven that survival rates increase significantly if you attend the program and graduate," Tami said. "I did, and I feel strong now. I exercise every day, and eat low sodium, high-fiber foods."
Thanks to her life-saving medical care and diligent, healthy heart habits, Tami is alive and thriving. She finds joy in dedicating her time to serving others in the community.
"I feel blessed to be alive and appreciate being active and able to volunteer," Tami said. "We're fortunate that Genesis has such top-notch, state-of-the-art cardiac care right here for us."
Heart attack symptoms can differ for women
Unlike the dramatic, chest-clutching pain in a movie scene, women often experience subtler and sometimes different symptoms for three or four weeks before a heart attack.
Symptoms for women can include, but are not limited to:
Jaw pain in left side
Shoulder pain
Upper back pain
Pain in the center of the chest that spreads to the back
Pain that spreads to either arm (usually the left arm in men)
Unusual or extreme fatigue during normal activities
Pain that wakes you up at night
Shortness of breath without exertion
If you experience any one of the symptoms described above that lasts for more than five minutes, SEEK EMERGENCY TREATMENT, AND CALL 911 IMMEDIATELY.